PINK NOISE ZINE
I started a publication in 2017 about women interested in music production and DJing, which overtime developing into a project facilitating a wider conversation about community in dance music.

This project has been featured in It's Nice That, Mixmag, I-D, Red Bull and Elle.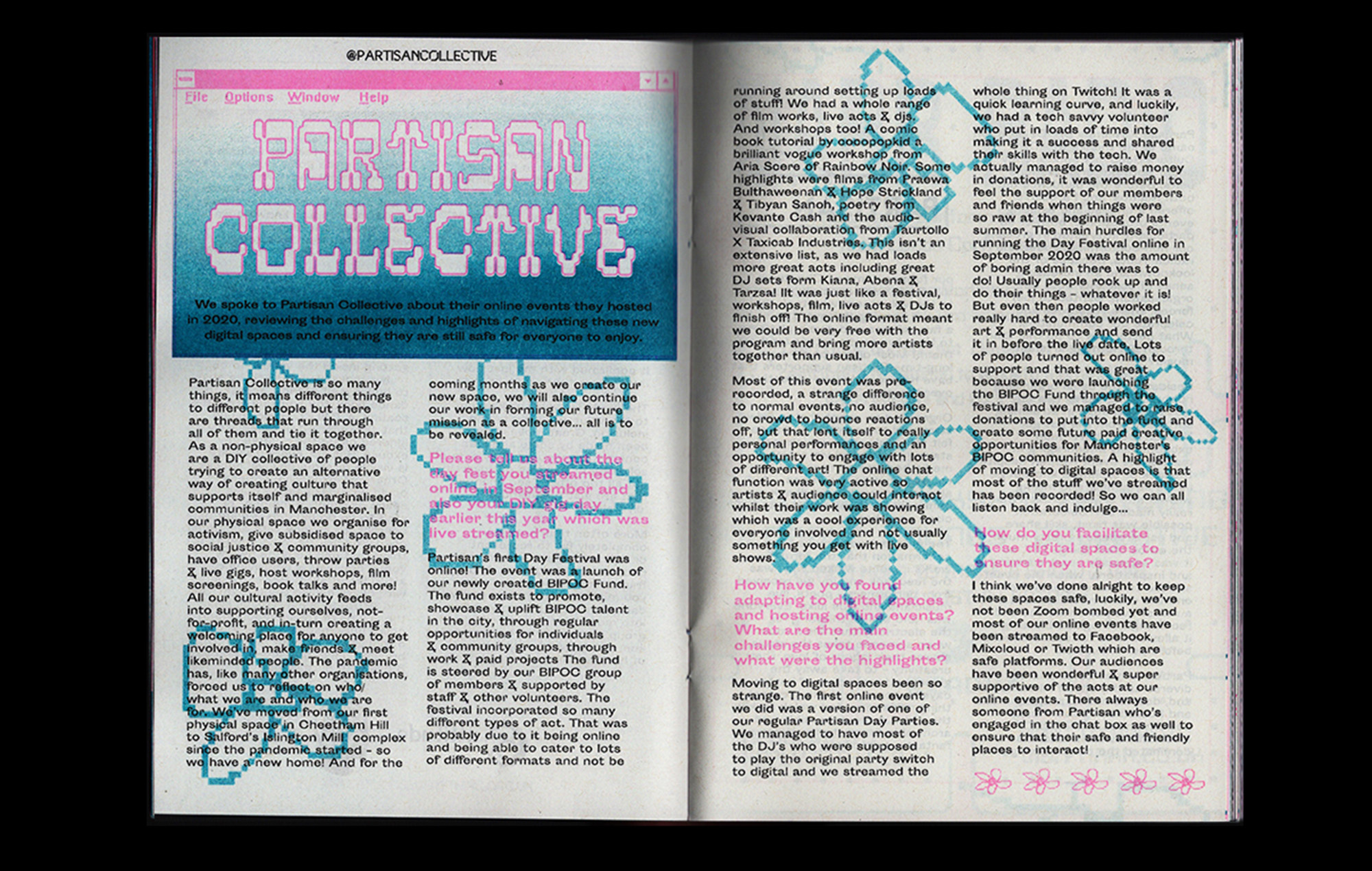 THESE FOUR WALLS ISSUE #4
Issue 4's theme came at a weird time. We started the curation of 'These Four Walls' back in October 2019, calling out for submissions around the theme 'Spaces', however, in light of the pandemic we had to have a think about how this affected our plans and theme.

We felt like the conversations about Spaces were 'ever-'changing but still very relevant to what was going on around us - seeing the shift to digital spaces and reflecting on how we left our physical spaces and the improvements that can be made. We hope that all the work that has been started to create truly safe spaces can continue once physical spaces start to re-open. The pieces have been constantly changing in time with the environment we are in, and it's been super interesting to see them develop.

Featuring Good Night Out's workshop on safety and accessibility for D/deaf and disabled people in our nightlife, faciliated by Kai Stone. As well as Chloe French exploring Revolutionary Spaces in Leeds, such as Tongue N Teeth and Party Moms Society. Issue #4 also features interviews The OS Community, Technomate, Partisan Collective and many more!
︎Stickers printed with Tommy Brentnall on a thermal receipt printer. He also designed an exclusive sticker for the sticker pack.

︎Pull out poster designed by the founder of Race Zine Okocha Obasi & montreal based artist, DJ and web developer Remote Access.
︎Printed with Pagemasters, 3 colour riso on recycled paper stock. Design inspired by the fusion of digital spaces and nature, including typefaces from open source type foundary GlyphWorld. Co-edited & curated with Rihana Osman.



REAL TALK ISSUE #3
Our third issue 'Real Talk' takes on more of a political/opinion based angle. Whilst curating this issue we spoke to not only producers and DJs but also people who play other parts in the club and dance scene, such as promoters and members of the audience.

Real Talk covers topics from the use of memes to critique and talk about electronic music (A Meme Is Worth 1000 Words by Samantha Schaefer) to more serious topics that are important to talk about including Sexual Harassment in London's Nightlife (Cut The Crap by Phoebe Gardener). We have also put together a production guide with tips provided by 3 talented producers; Ciel, Octo Octa and Ikonika. They give us an insight on how they go about producing their music as well as some tips on equipment and where to find your samples! An addition to our practical advice, we have a guide to organising your records (How I Maintain My Box by Eden Alison).
︎I personally funded this issue without any additional funded so I had the challenge of working with a limited budget. I printed this issue with Mixam on 120gsm paper, and used a very off-white background on my design file to emulate natural coloured paper.
︎The pullout poster was designed by CM-DP alongside additional stickers & an everpress tee.